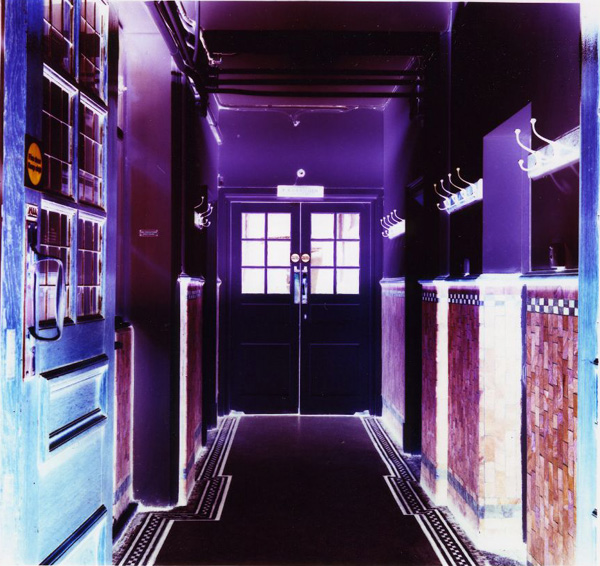 In 2009, Paul Tecklenberg became the first Artist in Residence at Swedenborg House. Tecklenberg lives and works in London. Since graduating from the Slade School of Fine Art in 1999 (under the tutors Stuart Brisley, Tim Head, John Hilliard and Bruce McLean) he has been involved in numerous exhibitions including The Map Is Not The Territory I, II, III, Sartorial and After A Fashion at England & Co where he has exhibited since 2002. In 2008 he was elected a life member of the London Group.
For his final exhibition during his Residency, he created a sound installation in the basement of the building, integrating experimental photographs with recorded readings from Heaven and Hell. Analogue images were hand-printed, using transparencies from hand-made pinhole cameras with apertures as big as f750. Some of the exposures contained 16 hours of light captured into one image and were made as a means of connecting with Swedenborg, who was fascinated by the camera obscura. Paul also involved Swedenborg Society members in his project. Volunteers were invited into the basement of the building, to be recorded reading random passages from Swedenborg's Heaven and Hell. These recordings eventually formed part of the sound installation, broadcast from speakers installed among the books in the basement. The photographs were also hidden amongst the books, producing an unpredictable and immersive experience for the exhibition audience.
Much of my practice is about perception; revealing what is usually hidden. This has taken the form of revealing the intimate details of an alcoholic's life (in the video piece Lift), or experimenting with photographic paper, objects and drawings to make images that resemble medical X-rays or microscopic images of what looks like bacteria, viruses or cell structures. However, on closer inspection, they are fabricated from things you would find inside a kitchen cupboard or bathroom cabinet.
– Paul Tecklenberg 2010