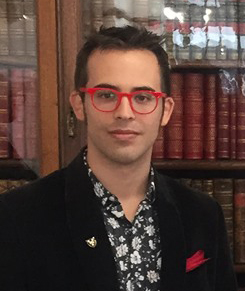 Vincent Roy-Di Piazza is a historian of science, religion and the Northern World. He was the first recipient of a Swedenborg Doctoral Scholarship from the Swedenborg Society (2018-2022) which he held along with a British Research Council funded award (AHRC-DTP) and the Gilbert Ryle scholarship at Linacre College, Oxford. In 2022, he completed a DPhil in History of Science, Medicine, Economic and Social History from the University of Oxford, with a thesis on Swedenborg and the soul-body problem supervised by Prof. Rob Iliffe.
BACKGROUND
Before completing his DPhil at Oxford, Vincent graduated with two bachelor degrees in English studies and Nordic studies at the Sorbonne, followed by two first-class honours masters from the Ecole Pratique des Hautes Etudes (EPHE) in religious studies, and from the Ecole Normale Supérieure (ENS) in history and philosophy of science. Vincent is also a trained classical musician and a former graduate in lyrical singing from the Conservatoire de Paris (CRR de Paris). From 2018 to 2022, Vincent read for a DPhil at the Oxford Centre for the History of Science, Medicine and Technology, the Oxford Centre for Intellectual History, and Linacre College, Oxford. During his DPhil, he was a stipendiary scholar at the Swedish Royal Academy of Sciences in Stockholm, Sweden, and a research fellow both at the Fondazione Cini in Venice, Italy, and at the Huntington Library in San Marino, California.
DOCTORAL PROJECT
Vincent's DPhil dissertation Homo Maximus: Emanuel Swedenborg and the interaction of soul and body (Oxford, 2022) presents a new thematical biography of Swedenborg focused on his lifelong quest to elucidate the soul-body problem. A fresh secular narrative of Swedenborg's life, contemporary influence and ideas, the dissertation shows how Swedenborg's work, sense of self, and intellectual development cannot be properly understood without accounting for his relationship to the soul-body question. It more broadly replaces Swedenborg's engagement with soul-body as part of the debate's wider applications and importance during the eighteenth century. Vincent's broader themes of expertise include science and religion within global early modern networks, the history of the body and the Enlightenment, along with currents related to Swedenborg's influence and posterity.
CONTACT AND PROFILE PAGE
Explore and follow Vincent's research and publications on his personal page: www.roydipiazza.com, or reach him on social media via Twitter: @RoyDiPiazza
Read Vincent's recent article entitled: 'Ghosts from other planets': plurality of worlds, afterlife and satire in Emanuel Swedenborg's De Telluribus in mundo nostro solari (1758) in the Annals of Science