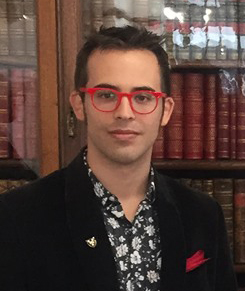 Vincent Roy-Di Piazza
Vincent Roy-Di Piazza is a DPhil student in History of Science and Medicine & Economic and Social History at Linacre College, University of Oxford.
DOCTORAL FUNDING
Doctoral scholar of the Swedenborg Society since 2018.
British Arts and Humanities Research Council-Doctoral Training Partnership (AHRC-DTP, 2018-2021)
Gilbert Ryle Scholar in Philosophy of Science at Linacre College,University of Oxford (2018-)
BACKGROUND
After two bachelor degrees in English studies and Nordic studies at the Sorbonne, Vincent graduated with two first-class honors masters from the Ecole Pratique des Hautes Etudes (EPHE) in religious studies and from the Ecole Normale Supérieure (ENS Ulm) in history and philosophy of science. Vincent is also a trained classical musician and a former graduate in lyrical singing from the Conservatoire à Rayonnement Régional de Paris (CRR de Paris). Since 2018, Vincent is a DPhil student at the Oxford Centre for the History of Science, Medicine and Technology at the University of Oxford. A British Humanities Research Council funded student, Vincent is also the current Gilbert Ryle Scholar in Philosophy of Science at Oxford and the first recipient of a Doctoral Scholarship from the Swedenborg Society.
RESEARCH PROJECT
Vincent's research focuses on the evolution of Swedenborg's theories on the interaction of soul and body, from his early scientific writings to his latest theological works. Vincent's broader themes of interest and expertise include Nordic and French history, history of anatomy, allegory, plurality of worlds, millenarianism in the context of the wider interactions between science and religion during the early modern period. Since 2018 Vincent has also been co-organizing the Society's academic symposium lecture series.
CONTACT
FACULTY & PROFILE PAGE
Read Vincent's recent article entitled: 'Ghosts from other planets': plurality of worlds, afterlife and satire in Emanuel Swedenborg's De Telluribus in mundo nostro solari (1758) in the Annals of Science