SWEDENBORG FILM FESTIVAL NOVEMBER 2016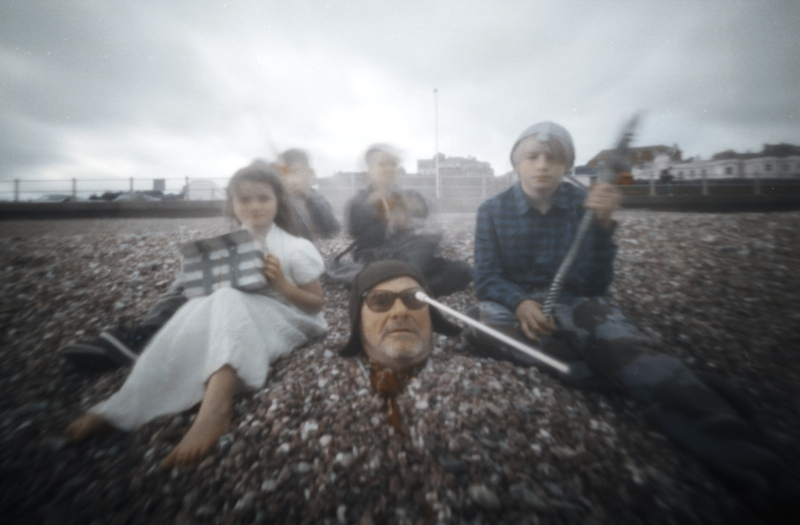 EVENT: SWEDENBORG FILM FESTIVAL NOVEMBER 2016
DATE: 26th November 2016
TIME: 7.45-9.15 pm
VENUE: Swedenborg Hall, Swedenborg House, 20/21 Bloomsbury Way, London WC1A 2TH
CURATOR/S: Gareth Evans | Nora Foster
JUDGE/S: Andrew Kötting
SPEAKER/S: Iain Sinclair | John Rogers
FILM MAKER/S: Lisa Birke | Rose Butler | Angus Carlyle & Chiara Caterina | Jacob Cartwright & Nick Jordan | Harold Charre | Karin Gunnarsson | Bernd Lützeler | James Norton | Monika Oechsler | Charlotte Pryce | Karen Russo | Team Five with Max Hattler | Toby Tatum | Müge Yildiz
Showcasing new works by artist filmmakers, the SFF returns on 26 November with an exciting and topographical-themed programme:
3:30 – 5:15 pm London Overground (2016). Screening followed by Q&A with director John Rogers, and stars Iain Sinclair and Andrew Kötting.
6:15 – 7:15 pm Edith Walks (2016). London premiere of Andrew Kötting's new film, introduced by Andrew Kötting and Iain Sinclair.
7:45 – 9:15 pm SFF competition. Screening of shortlist and announcement of winner (see below for full listings).
At the close of the evening, SFF guest judge—filmmaker Andrew Kötting—will announce the winning film and the 2017 call for entries.
The SFF has received a huge response from thousands of filmmakers around the world since its launch in 2010, with its selected programme of short works exploring the singular legacy of the Swedish philosopher, scientist and mystic Emanuel Swedenborg (1688-1772), a seminal influence on Romantic, Symbolist and Surrealist traditions, and in particular the great English artist William Blake. The SFF boasts a commitment to show the work of international filmmakers who are engaging with themes similar to those that energized Swedenborg. This year entrants have been invited to explore the concept of 'topographies'—a notion encountered in the work of John Rogers, Iain Sinclair, Andrew Kötting and Emanuel Swedenborg.
ANDREW KÖTTING is an acclaimed artist, writer and filmmaker. Known for films such as Gallivant (1996), Ivul (2009) and Swandown (2012), his work explores and retraces journeys—many taken around the British countryside—where tradition, myth and memory overlap.
IAIN SINCLAIR is a writer, poet and filmmaker known as a chronicler and critic of ever-changing contemporary London. His works include Downriver (winner of the 1992 James Tait Black Memorial Prize), London Orbital, Hackney That Rose-Red Empire and Blake's London.
JOHN ROGERS is a writer, filmmaker and author of This Other London—Adventures in the Overlooked City. His documentary films include London Overground and The London Perambulator. John is also a co-presenter of Ventures and Adventures in Topography on Resonance FM.
THE SWEDENBORG FILM FESTIVAL is curated by Gareth Evans, writer, presenter, producer (Patience: After Sebald; By Our Selves and Unseen) and Film Curator at the Whitechapel Gallery, London; and Nora Foster, Communications Manager, Frieze and formerly Assistant Curator, The Swedenborg Society.
Admission is free but capacity is limited. Book now at:

SFF November 2016 shortlisted | Press release

Programme of Shortlisted Screenings
Installation (Bookshop)
Lisa Birke, Endgame (14 mins)
Installation (Gardiner Room)
Toby Tatum, The Toby Tatum Guide to Grottoes & Groves (10 mins 5 secs)
Pre-Programme Screening (Hall) 7.30 – 7.45 pm
Team Five with Max Hattler, Five: Moving Stormily (14 mins 33 secs)
Introduction and Welcome to SFF 2016  (Hall) 7.45 – 7.50 pm
by curators Gareth Evans and Nora Foster
First Session (Hall) 7.55 – 8.30 pm
Müge Yildiz, Anxiety (3 mins 17 secs)
Harold Charre, Savagery (11 mins 10 secs)
Rose Butler, The Fairs (3 mins 54 secs)
Karin Gunnarsson, Figure A (5 mins)
James Norton, Transcendental Express (1 min 40 secs)
Jacob Cartwright & Nick Jordan, Last Acre (11 mins 26 secs)
Interval 8.30 – 8.35 pm
Second Session (Hall) 8.35 – 9.15 pm
Bernd Lützeler, Batagur Baska (7 mins 7 secs)
Karen Russo, Haus Atlantis (9 mins 38 secs)
Charlotte Pryce, Prima Materia (3 mins 10 secs)
Monika Oechsler, Address to the Audience: A Prelude (7 mins 28 secs)
Angus Carlyle & Chiara Caterina, Into the Outside (12 mins 21 secs)
Award Ceremony 9.15 pm
announcemnent of winner by Andrew Kötting
opening of next competition, details announced by Gareth Evans & Nora Foster
about the guest judge
ANDREW KÖTTING is one of Britain's most intriguing artists, and perhaps the only filmmaker currently practising who could be said to have taken to heart the spirit of visionary curiosity and hybrid creativity exemplified by the late Derek Jarman. Formally exploratory and aesthetically innovative, like Jarman he is also a great collaborator, building around his various projects a community of shared interest, while anchoring his prolific production in an ongoing report on the lives of those closest to him.
His twenty-five-year oeuvre to date has moved from early live-art inflected, often absurdist pieces, ripe with their own internal logics and skewed mythologies, through darkly comic shorts teasing out the melancholy surrealism at the heart of contemporary Englishness to four resolutely independent features that take landscape (rare among contemporary artists, he is most engaged beyond the urban) and journeys as the springboards for visually striking and structurally inventive enquiries into identity, belonging, history and notions of community. Throughout his art works he has also written and performed, created for digital platforms and for the gallery (two- or three-dimensional pieces and installations) and is increasingly working directly with sound and music, in concert and on CD. Such activity reflects both his wide-ranging formal interests but also his refusal to adopt conventional ideas of closure around artworks in any medium. Ideas and images frequently migrate between media, being echoed and amplified in these translations. It is this openness, underpinned by an outlaw intelligence and pranksterish wit that marks out his work as both energising and important.
– Gareth Evans – LUX ONLINE – UK
about the shortlisted filmmakers
LISA BIRKE (b. 1976, Prien am Chiemsee; lives and works in Kitchener/ Waterloo) is an award-winning video artist working in painting, digital video and performance art. She received an MFA with distinction from the University of Waterloo in 2013, where she currently works. She has shown at venues including Vancouver International Film Festival; European Film Festival (touring); Athens International Film + Video Festival; ARTVIDEO LAB; InShadow International Festival of Video, Performance and Technologies, Lisbon; Cologne OFF X; Cyprus International Performance Art Festival; Cold Cuts Video Festival; and International Short Film Week Regensburg.
Website: lisabirke.com / Twitter: @Lisa_Birke
ROSE BUTLER (b. 1972, Liskaerd; lives and works in Sheffield) is an artist, studying on the Cultural Communication and Computing Research Institute (C3Ri) Ph.D. programme, and a senior lecturer in Fine Art at Sheffield Hallam University. She uses film, photography, animation and installation to make artwork.
Website: rosebutler.com / Instagram: @zr.butler / Twitter: @RoseButler2
ANGUS CARLYLE (b. 1968, Edinburgh; lives and works in Brighton and London) works between text, sound and collaborative projects that involve moving images. In The Shadow of the Silent Mountain (2016) is his last field recording project and A Downlands Index (2016) his first solo book, an exercise in nature writing on the move. His installation A Crossing Bell was part of the Estuary Festival 2016. He lives in Brighton and works at the University of the Arts in London, where he is Professor of Sound and Landscape.
Website: anguscarlyle.com / Instagram: @anguscarlyle
JACOB CARTWRIGHT & NICK JORDAN have been based in Manchester and collaborating since 2003. Their practice is cross-disciplinary, encompassing video, drawing, painting, photography, objects, publications and events. From invasive species and ancient oaks to ornithologist explorers and marginal communities, their work looks at the relationship between the natural world and our multifaceted cultural histories. Cartwright & Jordan's work has been exhibited widely, including at ICA, London; Kunstmuseum, Bonn; Cornerhouse, Manchester; Academia de Cine, Madrid; Musée du Quai Branly, Paris; and Headlands Center for the Arts, San Francisco.
Website: nickjordan.info/wurstundgritz.html
CHIARA CATERINA (b. 1983, Salerno; lives and works between Italy, Belgium and France) is an independent filmmaker currently enrolled at Le Fresnoy – Studio National des Arts Contemporains in Lille, France. She makes films related to a personal sense of landscape and loves moving images in which fiction and reality meet, fabricating a brand new appearence of truth.
Website: www.chiaracaterina.com / Instagram: @chiara_catcat
HAROLD CHARRE (b. France, 1980) has been a jazz pianist for 15 years, following musical training at the conservatoire de Lyon and Paris. He studied Theology and rapidly turned to the self-taught making of films/videos and installations in which his passions for the moving image, music and the mysteries of mythology may express themselves.
KARIN GUNNARSSON (b. 1976, Sweden; lives and works in Barcelona) predominantly works in photography and artist film. She graduated with an MA in Photography from London's Royal College of Art in 2009. Her graduation piece, Being It—in which she starred and performed as a Yeti-like character making traces through a snow-covered landscape—was a starting point of an artistic investigation into symmetries between psychological processes and the physical body, featuring ghosts, mythical beings and fantasy creatures. In films, photographs, texts, performances and installations, Karin Gunnarsson constructs narratives that reflect on manifestations of trauma and creative transformation.
Website: karingunnarsson.com / Instagram: @gunakau
BERND LÜTZELER (b. 1967, Düsseldorf; lives and works in Berlin) studied at University of the Arts Berlin. He is an active member of the artist-run, analogue film collective LaborBerlin. In his works he often focuses on the aesthetics and perception of the moving image and sound, and their interrelation with technology and society. Several of his film and video projects have been produced in Mumbai, India, including his film The Voice of God and the multimedia theatre performance K⁰.
Website: bernd-luetzeler.de
JAMES NORTON began his career as an assistant on films by Derek Jarman, Terence Davies and Sally Potter before researching and producing television arts documentaries for series such as Arena, Imagine and The South Bank Show. His short films on art and fashion have been shown at the V&A Museum, the Venice Biennale and the Centre Pompidou. He has cycled across Canada, and has swum the English Channel, Lakes Windermere and Zurich; and from Capri to Naples. Awards: Silver medallist, World Winter Swimming Championships, Siberia, 2016.
Website: jwnorton.co.uk / Twitter: @cineswimmer
MONIKA  OECHSLER (b. Munich; lives and works in London) is a senior lecturer at the University of the West of England, Bristol and at Chelsea College of Art and Design, London. She studied at Goldsmiths, University of London where she received an MFA in 1996 and was awarded a PhD in 2012 from the University of Brighton. Selected solo and group shows include those at Herbert Read Gallery, Canterbury; James Hockey and Farnham Galleries, Farnham UK; Kunstmuseum, Linz; Site Gallery, Sheffield; Århus Kunstbygning, Centre for Contemporary Art; 7th Werkleitz Biennale, Halle; Kunsthalle Budapest; Kunstverein Vienna; Sharjah International Biennial 6; Video Positive 2000, Tate Gallery Liverpool; Performing Bodies, Tate Modern, London.
Website: monikaoechsler.com
CHARLOTTE PRYCE (b.1961, London; lives and works in Los Angeles) has been making films and optical objects since 1986. She has taught experimental film at the School of the Art Institute of Chicago; The San Francisco Art Institute; The Academy of Art (San Francisco); Kent Institute of Design (Canterbury); and is currently a faculty member at the California Institute of the Arts (Los Angeles). She is a graduate of the Slade School of Art, University College London (BFA) and the School of the Art Institute of Chicago (MFA). In 2013 the Los Angeles Film Critics Association honoured her with the Douglass Edwards Award for Best Experimental Cinema Achievement.
Website: charlottepryce.net
KAREN RUSSO (b. 1974, Israel; lives and works in London) has exhibited at the Barbican; Hayward Gallery Project Space; V&A Museum; Tate Modern; Zabludowicz Collection; Delfina Foundation; Paradise Row Gallery; Busan Biennale, Korea; Montevideo, Institute for Media Art, Amsterdam; Grosse Kunstschau; Haus der Kulturen Die Welt, Berlin; Krefeld Museum, Germany; Arquebuse, Geneva; Israel Museum, Jerusalem; the Center for Contemporary Art and Tel Aviv Museum in Israel. Recent awards and grants include: Arts Council England 2016; Artis Contemporary 2015; Ostrovsky Family Fund for Experimental Cinema 2015; and Arts Council England 2015.
Website: karenrusso.co.uk
TEAM FIVE WITH MAX HATTLER is a group of 36 undergraduate and postgraduate students at the School of Creative Media at City University of Hong Kong, led by abstract animation artist Max Hattler. They are Zhen Bao, Kei Chee Choi, Hiu Lam Chow, Kevin Finck, Pui Iu Kan, Cheuk Hin Lam, Yiu Ki Lee, Wai Kwo Leung, Leonie Opelt, Mung Kiu Tam, Yeuk Hei Dick Wan, Alexandra Woermann, Ka Kiu Wong, Wai Yin Yan, and Yin Ting Yip.
Website: maxhattler.com/five / Twitter: @maxhattler
TOBY TATUM (b. England, 1974; lives and works in Hastings) studied Fine Art at the University of Brighton and at Chelsea College of Art. Toby Tatum's films have been exhibited at numerous film festivals and arts events worldwide, including Rotterdam International Film Festival; London Short Film Festival; Berwick Upon Tweed Film & Media Arts Festival; Stuttgarter Filmwinter; Alchemy Film & Moving Image Festival; Chicago Underground Film Festival; and the BFI London Film Festival. In 2015 Toby Tatum was commissioned by Coastal Currents Arts Festival to curate Altered States, an immersive exhibition of visionary experimental film at the Electro Studios Project Space in St Leonards-on-Sea, England. Toby Tatum's recent films are distributed by Collectif Jeune Cinéma.
Website: tobytatum.com / Twitter: @TobyTatumFilm
MÜGE YILDIZ (b. 1985, Agri; lives and works in Istanbul) studied Cinema (BA) at the Faculty of Communication, Galatasaray University and at Paris III Sorbonne Nouvelle; and currently studies Philosophy (MA) at the Institute for Social Sciences, Galatasaray University. She is interested in experimental film and video making, super 8 and other medium. Her work currently focuses on image as concept (from Gilles Deleuze's L'image-mouvement and L'image-temps). She also writes articles on cinema in several art magazines and has participated in group exhibitions at institutions including Istanbul Modern and Pera Museum.
Website: mugeyildiz.co / Instagram: @mugeyildizjaakaappi / Twitter: @Jaakaappi
awards November 2016
The joint winners of the Swedenborg Film Festival, November 2016, as selected by guest judge Andrew Kötting, are:
Harold Charre for Savagery
and
Toby Tatum for The Toby Tatum Guide to Grottoes & Groves
The judge also selected two runners-up: Karin Gunnarsson for Figure A and Bernd Lützelerfor Batagur Baska.
There were special mentions for: Karen Russo, Haus Atlantis; Jacob Cartwright & Nick Jordan, Last Acre; Charlotte Pryce, Prima Materia; and Angus Carlyle & Chiara Caterina, Into the Outside.
the winners
Harold Charre, Savagery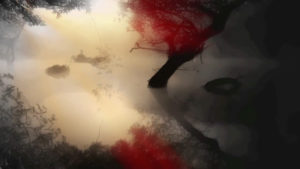 A dark mass lies ahead, in nature. This nature, we do not know if she is dying or if she is overkill. An old priest observes this strange mass closely and decides to undertake a long journey. But is this really an escape?
Guest judge Andrew Kötting's comments: 'Atmospheric and beguiling—using multifarious image techniques and musical tones to "imply" a story—the experience proved [Guy] Maddinesque in parts—and on each repeated viewing became more compelling'.

Toby Tatum, The Toby Tatum Guide to Grottoes & Groves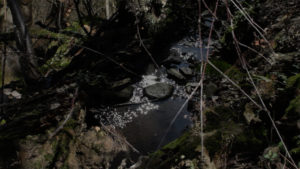 Enter a landscape of curious subtle enchantment, where sentient shadows brood and magic shines resplendent in streams of illuminated water. The Toby Tatum Guide to Grottoes & Groves was filmed over several months during repeated visits to the woodlands near the artist's Hastings home. The film represents his deepest engagement with nature and its hidden mysteries. It features an original soundtrack by British Sea Power's Abi Fry.
Guest judge Andrew Kötting's comments:  'I really enjoyed this work—animistic and phantomic—hidden presences and trace elements—voices coaxed out the frame by very subtle light and shadow play. I kept wanting "Verushka" to appear within the landscape; and as part of a large projection/expanded cinematic experience the work has enormous potential'.

the runners-up
Karin Gunnarsson, Figure A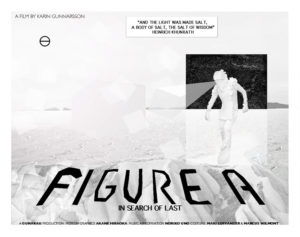 Figure A is a short animated artist film based on footage captured during an artist residency in Cappadocia, Turkey. The artist-director poetically experiments with modularity, symmetry and rhythm through an imaginative network of references to mineralogy, alchemy, Pythagoras and the fugues of J S Bach and the Turkishmaqam. In this work, an interplanetary explorer crash-lands on a barren planet where it confidently familiarizes itself with the surroundings. Through analytical powers, the visitor learns to appropriate the environment and its cultural remnants, using them to transform and transport towards new horizons.
Guest judge Andrew Kötting's comments: 'Wonderfully ambitious and futuristic—I was transfixed despite my strange aversion to high-end FX graphics and CGI—but when the magic carpet kicked in the work soared; I was reminded of Jem Finer and Ansuman Biswas's Zero Genie, which is a very good thing indeed'.
You can view the trailer for Figure A below.

Bernd Lützeler, Batagur Baska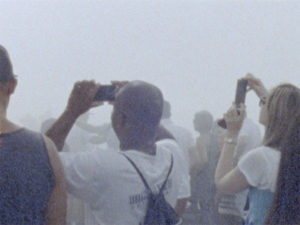 'They gather here every day. They come from afar and without purpose. They do not know one other and they will not come to know each other. They carry their gadgets to optimize the experience. They engage with the world through a small frame. They believe that this moment will remain unforgotten.'
Guest judge Andrew Kötting's comments: 'Hypnotic and confusing—why have these people gathered and what are they doing? What are they looking at? Where is the smoke machine? Why did Bernd have his super 8 camera to hand? And it's all driven by the remarkable music of Guido Mobius—It reminded me in its power to bewitch of Ben Rivers's The Coming Race, which I adore'.