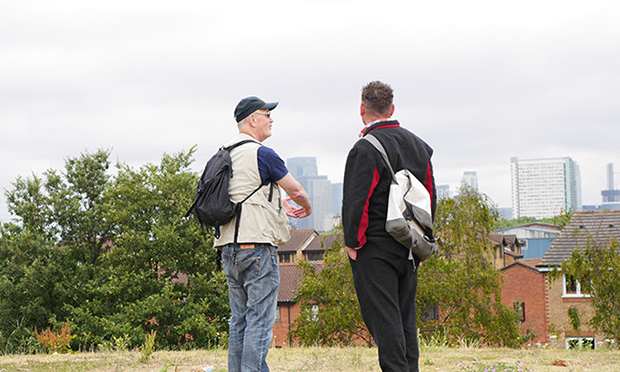 EVENT: LONDON OVERGROUND
DATE: 26th November 2016
TIME: 3.30-5.15 pm
VENUE: Swedenborg Hall, Swedenborg House, 20/21 Bloomsbury Way, London WC1A 2TH
SPEAKER/S: Iain Sinclair | Andrew Kötting | John Rogers
DIRECTOR/S: John Rogers
Screening followed by Q&A with director John Rogers, and stars Iain Sinclair and Andrew Kötting

London Overground retraces legendary London writer Iain Sinclair's journey with filmmaker Andrew Kötting around the Overground railway for the book of the same name. The film follows Sinclair reprising the walk over the course of a year rather than the day's walk of the original book. Iain is once again joined on the 35-mile circular yomp by Kötting, along with Chris Petit (director of Radio On) and Bill Parry-Davies.
Sinclair describes the 'Ginger Line' as the 'spin-drier of capitalism whirling bank notes around the city' and his journey becomes a chance to document a newly emerging metropolis of 'unreal money'. The recently completed Overground circuit proves to be 'a tiny little map of what is happening now' in London. Rogers's film emerges as a snapshot of the city in transition and also as a unique insight into the most important chronicler of contemporary London. 'The city', Sinclair says at one point, 'is a series of psychic mappings that reinforce our own identity'.
The film features an original soundtrack with music from Standard Planets, Bill and Adam Parry-Davies, and Free Seed Music.
JOHN ROGERS is a writer, filmmaker and author of This Other London—Adventures in the Overlooked City. His documentary films include Make Your Own Damn Art: The World of Bob and Roberta Smith and The London Perambulator. John is also a co-presenter of Ventures and Adventures in Topography on Resonance FM.
IAIN SINCLAIR is a writer, poet and filmmaker known as a chronicler and critic of ever-changing contemporary London. His works include Downriver (winner of the 1992 James Tait Black Memorial Prize), London Orbital, Hackney, That Rose-Red Empire and Blake's London.
ANDREW KÖTTING is an acclaimed artist, writer and filmmaker. Known for films such as Gallivant (1996), Ivul (2009) and Swandown (2012), his work explores and retraces journeys—many taken around the British countryside—where tradition, myth and memory overlap.
Admission is free but capacity is limited.