Description
Hilma af Klint is now regarded as a pioneer of abstract art. Her work from the early 20th century predates the first purely abstract paintings by Kandinsky, Mondrian and Malevich. Now, for the first time, af Klint's works, some 1,600 in all, have been collected in a Catalogue Raisonné. Af Klint's work should be seen and appreciated in the series of paintings often depicting specific themes and this ground-breaking publication, divided into seven volumes, allows for this. Volume VI focuses on the time after her mother's death in 1920 when Hilma af Klint gave up her geometrical works and began to paint with watercolours, as in the series On the Viewing of Flowers and Trees, from 1922.
Produced with the permission of the Hilma af Klint Foundation and featuring introductions by Daniel Birnbaum and Kurt Almqvist, a separate slip cased edition containing all seven volumes will be available in autumn 2021.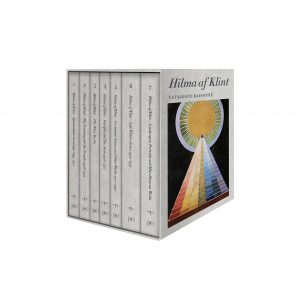 About the Catalogue Raisonné
The final volume in a Catalogue Raisonné of the abstract pioneer Hilma af Klint, one of the first to be compiled for a Swedish artist, is released on October 31. The series comprises seven volumes and nearly 1,600 of af Klint's works.
A Catalogue Raisonné is necessary in order to see the different cycles, motifs and symbols that recur in such an exciting way. If someone really wants to understand how Hilma af Klint's works function, they need these books," says Daniel Birnbaum at Acute Art, who edited the catalogue together with Kurt Almqvist.
In addition to the completion of the Catalogue Raisonné, the unique Virtual Reality piece "Hilma af Klint – The Temple" will be released in connection with the publication of the seventh and final volume. A specially produced slipcase to hold all seven volumes will be available in the autumn of 2022. Read more about the Catalogue Raisonné here.