Description
Hilma af Klint rarely exhibited her work during her lifetime, and her magnum opus, The Paintings for the Temple, was shown to the public in the series of exhibitions that started in 2013 at Moderna Museet in Stockholm and ended with the grand exhibition at the Guggenheim Museum in New York in 2018-19. This series of 193 paintings began with af Klint receiving communication from an otherworldly figure during a séance. Specific themes, such as evolution and duality, are conveyed through vivid pastel colour schemes and intricate geometric patterns arranged carefully on canvases that reach over ten feet in height.
This volume, the third in the artist's first seven-part catalogue raisonné, contains the sketches and preparatory work af Klint made in anticipation of The Paintings for the Temple. Af Klint travelled with these sketchbooks so as to be able to show her friends her work in a more accessible format.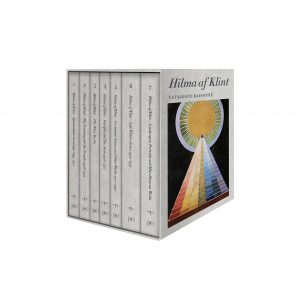 About the Catalogue Raisonné
The final volume in a Catalogue Raisonné of the abstract pioneer Hilma af Klint, one of the first to be compiled for a Swedish artist, is released on October 31. The series comprises seven volumes and nearly 1,600 of af Klint's works.
A Catalogue Raisonné is necessary in order to see the different cycles, motifs and symbols that recur in such an exciting way. If someone really wants to understand how Hilma af Klint's works function, they need these books," says Daniel Birnbaum at Acute Art, who edited the catalogue together with Kurt Almqvist.
In addition to the completion of the Catalogue Raisonné, the unique Virtual Reality piece "Hilma af Klint – The Temple" will be released in connection with the publication of the seventh and final volume. A specially produced slipcase to hold all seven volumes will be available in the autumn of 2022. Read more about the Catalogue Raisonné here.