Description
Between 1906 and 1915, Hilma af Klint (1862-1944) created 193 paintings that she would title The Paintings for the Temple. Colourful, mostly abstract, with biomorphic imagery, these works expressed af Klint's mediumistic vision of spiritual reality, which she hoped would ultimately be installed in a round temple for true spiritual comprehension and enlightenment. Since the internationally acclaimed Guggenheim exhibition of 2018-19, these works have come to number among her most popular, defining and beloved.
This handsomely produced clothbound volume collects these paintings in the second of a projected and collectible seven-volume catalogue raisonné that will present the entirety of af Klint's work in its dazzling totality for the first time. Produced in cooperation with the Axel and Margaret Ax:son Johnson Foundation, it features introductions by Daniel Birnbaum, former head of Moderna Museet in Stockholm, Sweden, and architect of the grand af Klint exhibitions between 2013 and 2019, and Kurt Almqvist, President of the Axel and Margaret Ax:son Johnson Foundation for Public Benefit.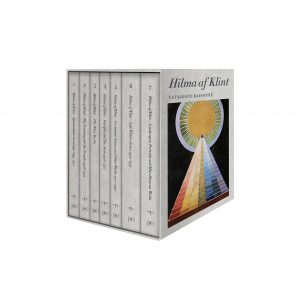 About the Catalogue Raisonné
The final volume in a Catalogue Raisonné of the abstract pioneer Hilma af Klint, one of the first to be compiled for a Swedish artist, is released on October 31. The series comprises seven volumes and nearly 1,600 of af Klint's works.
A Catalogue Raisonné is necessary in order to see the different cycles, motifs and symbols that recur in such an exciting way. If someone really wants to understand how Hilma af Klint's works function, they need these books," says Daniel Birnbaum at Acute Art, who edited the catalogue together with Kurt Almqvist.
In addition to the completion of the Catalogue Raisonné, the unique Virtual Reality piece "Hilma af Klint – The Temple" will be released in connection with the publication of the seventh and final volume. A specially produced slipcase to hold all seven volumes will be available in the autumn of 2022. Read more about the Catalogue Raisonné here.