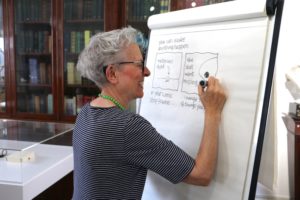 Artist and author Sally Kindberg has a vast experience of working on books and features, and running  workshops for both children and adults. She illustrated a series of four comic strip books for Bloomsbury, including The Comic Strip History of the World and The Comic Strip History of Space, The Comic Strip Greek Myths and an anthology –  The Comic Strip Big Fat Book of Knowledge .
Sally recently wrote and illustrated an eight-book series of Draw It! books for Bloomsbury, and ten comic strips for CBBC  as well as working on new comic strip stories, assembling and writing about her Museum of Dust and taking her Hat of Surprise along to various workshops.
Sally was a Royal Literary Fund Writing Fellow at City and Guilds Art School from 2018 to 2020.  She is currently writing and drawing a mystery/memoir.
See sallykindberg.co.uk for more examples of children's books, editorial illustration, travel writing, interview features & comic strips.