Description
Teaching of the New Jerusalem concerning Sacred Scripture | Doctrina Novae Hierosolymae de Scriptura Sacra ISBN 978-0-85448-213-9 Price £12.95
Having published his key work, Arcana Caelestia, in eight hefty Latin volumes between 1749 and 1756, Swedenborg turned his attention in the 1760s (partly, at least) to addressing how some of the major theological ideas contained within the Arcana could be positioned in terms of contemporary ideas and arguments in theology and philosophy. In 1763, as one of the results of this process, he published 4 short works addressing core areas of Christian teaching. Teaching of the New Jerusalem concerning Sacred Scripture explains how there are three interrelated levels of meaning to Scripture: celestial, spiritual and literal. For Swedenborg, the literal sense has often been misunderstood and misinterpreted due to complete ignorance of the other deeper senses.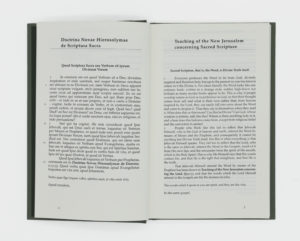 Additional Information
Translation of Doctrina Novae Hierosolymae de Scriptura Sacra (1763). This translation is also included in Four Doctrines (both hardback and paperback).