Description
With the possible exception of the periodical The New Philosophy, few attempts have been made to integrate the work of Swedenborg into the history of ideas. Monographs have been written but little has been done to introduce his thought directly to philosophical debate. Today, when one encounters the name of Swedenborg, one does so primarily as a footnote to specialist studies of the eighteenth century. Even here however, he is misquoted, misjudged or simply misunderstood.
This volume of essays, beginning with a look at Immanuel Kant's reading of Swedenborg, aims at re-examining this generally held misconception. Drawing on comparisons with Schopenhauer, Wolff, Liebniz and others, they show Swedenborg to be a much greater influence than many would have imagined, and a key component of subsequent nineteenth- and twentieth-century thought.
This volume is a key textbook for students interested in the Western philosophic tradition.
This title is out of print.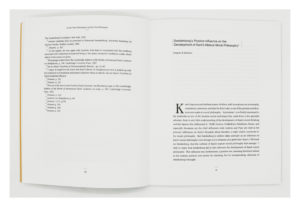 table of contents
Introduction  Stephen McNeilly
1—Swedenborg and Kant on Spiritual Intuition  Michelle Grier
2—Swedenborg's Positive Influence on Kant's Moral Philosophy  Gregory R Johnson
3—Metaphysics and Biology: Thoughts on the Interaction of the Soul and Body in Emanuel Swedenborg  Francesca Maria Crasta
4—Swedenborg and the Comparative Philosophy of the Soul  Michael Costello
5—Swedenborg and Schopenhauer Gregory R Johnson
6—Swedenborg and Heavenly Hermeneutics  Lars Bergquist
7—Representation and Concept in Swedenborg  José Antonio Antón-Pacheco