SWEDENBORG FILM FESTIVAL 2022

EVENT: SWEDENBORG FILM FESTIVAL 2022
DATE: 10th December 2022
TIME: 6pm - 9.30pm (doors open at 5.30)
VENUE: SWEDENBORG HALL
CURATOR/S: DAVE GRIFFITHS & SALLY O'REILLY
JUDGE/S: LINDSAY SEERS & KEITH SARGENT
FILM MAKER/S: JOSHUA ALEXANDER | CECILIA ARANEDA | JESSICA ASHMAN | TOMMY BECKER | ANAT BEN-DAVID | CHRISTIAN CARRIÈRE & HELEN SEAR | MARA CHAVEZ | IOLO EDWARDS | TESSA GARLAND | PAWEL KOCAMBASI | ANDREW KÖTTING | BERND LÜTZELER | DIANE NERWEN | CHARLIE OSBORNE | PARLOUR COLLECTIVE | HIROYA SAKURAI | MAHENDERPAL SORYA | JOHN STRUTTON | JULIETA TETELBAUM | JANELLE VANDERKELEN | ERIN WEISGERBER | ELIAS ZX

We're delighted to announce the

programme

 for the Swedenborg Film Festival 2022, taking place on Saturday 10 December 2022.

 T

his year's

judges are

Lindsay Seers & Keith Sargent

. The shortlist features 22 moving image works from around the world, spanning experimental and essay films, animation and documentary. Thank you to everyone who submitted, and

congratulations

 to the selected filmmakers. The event programme is as follows:
Screening 1:  6.00pm to 7.15pm
| | |
| --- | --- |
| Hiroya Sakurai | The Stream XII |
| Charlie Osborne | Bury-Man-Lane |
| Janelle VanderKelen | Language Unknown |
| Erin Weisgerber | Dans les cieux et sur la terre |
| Mara Chavez | Isthmus, a Narrowing of Land |
| Diane Nerwen | Boom |
| Bernd Lützeler | How to Build a House out of Wreckage and Rags |
| Pawel Kocambasi | The Drummer |
| Andrew Kotting | The Buzz of the Past |
| John Strutton | I Hagstone |
Screening 2:  7.45pm to 9.00pm
| | |
| --- | --- |
| Mahenderpal Sorya | Saeculum |
| Tommy Becker | The Mirror Neuron (poetry mix) |
| Julieta Tetelbaum | Black Chalk |
| Cecilia Araneda | The Space Shuttle Challenger |
| Anat Ben-David | The Promise of Meat |
| Tessa Garland | Glimpsey |
| Jessica Ashman | Dawta |
| Joshua Alexander | All I Ever Wanted |
| Elias ZX | Last Known Interview With Zach |
| Iolo Edwards | Two Voices, One Dog present: A Grand Day Out |
Installed films
Parlour

 

Collective

Scenes, Overheard

Christian Carriére and Helen Sear

Electric Eden
Awards presentation: 9.00pm – 9.30pm
For Filmmaker bios click on this link

---
This years judges are Lindsay Seers and Keith Sargent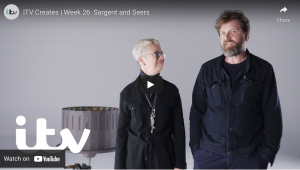 ---
Information on curators Sally O'Reilly, Dave Griffiths and the SFF team can be found here

---
The Swedenborg Film Festival 2022 (SFF2022) invites entries of new films of 20 minutes or less from emerging and established independent filmmakers. Now a landmark event in the UK film calendar, the SFF has received a huge response from thousands of filmmakers around the world and has gained a reputation for the quality and diversity of its programming.
In an expanded award format, prizes will be presented in several categories. There will also be a special 'public vote' award. Shortlisted films will be shown alongside invited screenings from established filmmakers.
"A fantastic festival with great communication. Their decision to show my film as a looped installation payed off brilliantly! Thanks again."
The SFF supports all genres and encourages submissions that draw upon the diverse and radical traditions influenced by Emanuel Swedenborg (1688–1772). Artists, writers and filmmakers influenced by Swedenborg include William Blake, Charles Baudelaire, Hilma af Klint, Jorge Luis Borges, Ingmar Bergman and many others. Films featured previously in the SFF have explored ideas of transcendence and symbolism, and themes have ranged from social reform to psychogeography.
Shortlisted films for SFF2022 will be screened during a live event in our atmospheric neo-classical Hall (date TBC), where winners will be selected and announced by our guest judges Lindsay Seers & Keith Sargent. In addition to this the films will be available to watch online and open to a public vote.
"Excellent festival – honoured to be a part of the proceedings – many thanks for such a professional presentation."
Swedenborg House is a fully inclusive not-for-profit publishing house, museum and cultural venue based in Bloomsbury, London. It hosts a diverse and lively programme of events. Featured speakers and artists have included Simon Armitage, A S Byatt, Brian Catling, Jeremy Deller, Deborah Levy, Iain Sinclair, Marina Warner and many others.
Former judges include:
2021: Samson Kambalu
2020: Melanie Manchot and John Smith
2019: Chloe Aridjis
2018: Susan Hiller
2017: Ali Smith
2016: Andrew Kötting
2015: Bridget Smith
2014: Peter Fillingham, Nora Foster and Sukhdev Sandhu
2013: Lech Majewski
2012: Gareth Evan and Jeremy Millar
2011: Rosie Cooper and Ian Hunt
2010: Nora Foster and Stephen McNeilly