VERNON LEE, SWEDENBORG AND PSYCHOLOGICAL AESTHETICS IN THE ART GALLERY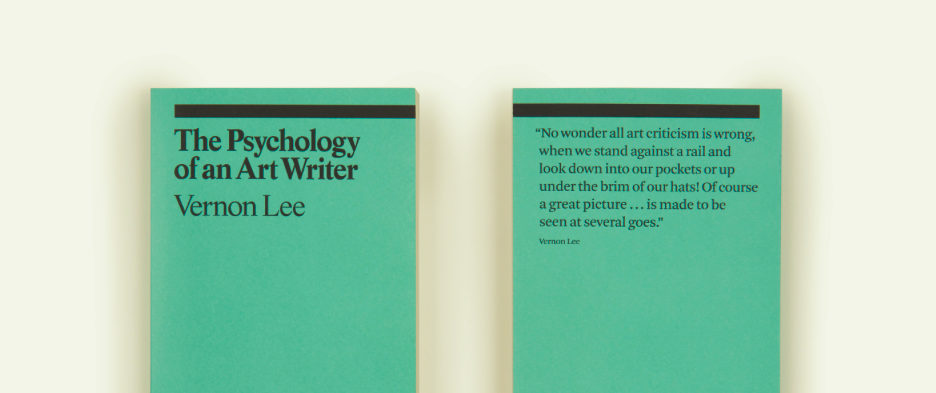 EVENT: VERNON LEE, SWEDENBORG AND PSYCHOLOGICAL AESTHETICS IN THE ART GALLERY
DATE: 24th September 2018
TIME: 7.00-9.00 pm
VENUE: Swedenborg Hall, Swedenborg House, 20/21 Bloomsbury Way, London WC1A 2TH
SPEAKER/S: Michael Bracewell | Patricia Pulham | Cally Spooner | Francesco Ventrella
A panel discussion in collaboration with David Zwirner Books

To mark the occasion of the publication of Vernon Lee's The Psychology of an Art Writer by David Zwirner Books, the Swedenborg Society and David Zwirner Books will be hosting an in-depth panel discussion entitled 'Psychological Aesthetics in the Art Gallery'.

An openly lesbian, feminist writer, VERNON LEE (1856-1935)—a pseudonym of Violet Paget—is the most important female aesthetician to come out of nineteenth-century England. Widely known for her supernatural short stories, Lee was familiar with Swedenborg, as were many from the literary, artistic and intellectual circles she moved in: Robert Browning, Henry James, William Dean Howells, H G Wells, Sarah Orne Jewett and Harriet Martineau, to name but a few.
Admired for her fiction, Lee's contributions in the fields of aesthetics, philosophy of empathy, and art criticism are characterized by extreme attention to her own responses to artworks, and a level of psychological sensitivity rarely seen in any aesthetic writing. That this side of her work hasn't gained the recognition it deserves is something this evening will seek to redress
speakers
MICHAEL BRACEWELL is a writer and novelist, he has written widely on art and culture, his books include; The Nineties: When Surface was Depth (2002), Roxy Music: Bryan Ferry, Brian Eno, Art, Ideas and Fashion (2005) and Perfect Tense (2001). He was the co-curator of The Secret Public: The Last Days of The British Underground, 1977-1988, at Kunstverein Munchen in 2006, and was a Turner Prize judge in 2007.
PATRICIA PULHAM is Professor of Victorian Literature, University of Surrey; Secretary of the British Association for Victorian Studies; and editor of the EUP journal, Victoriographies. She completed her doctorate at Queen Mary, University of London in 2001, and taught at Brunel, Goldsmiths, Birkbeck and QMUL, where she was Lecturer in Poetry from 2002-03. Patricia is currently completing a monograph on the sculptural body in Victorian literature which will be published by Edinburgh University Press.
CALLY SPOONER is an artist based in Athens. Her most recent solo shows include Centre d'Art Contemporain Genève (2018), Whitechapel Gallery, London (2017), The New Museum, New York, and The Stedelijk Museum, Amsterdam (both 2016). Recent group shows include Serpentine Gallery (2017) and the Geneva Moving Image Biennial (2016-17). Upcoming shows include Castello di Rivoli, Turin (2018), Swiss Institute, New York (2018) and Art Institute Chicago (2019). Cally Spooner's book of Scripts is published by Slimvolume (2016), and her novel Collapsing In Parts is published by Mousse (2012).
FRANCESCO VENTRELLA is Lecturer in Art History at the University of Sussex. In 2006 Francesco was Visiting Fellow at the CentreCATH, University of Leeds and received a British Academy and Accademia dei Lincei Postgraduate Research Bursary in 2007. After joining the Art History Department at Sussex in 2012, Francesco was awarded a Leverhulme Early Career Research Fellowship (2013-2016) and he has recently been the recepient of the Rome Fellowship funded by the Paul Mellon Centre for British Art (Spring 2019).
JAMES WILSON is librarian and editor at the Swedenborg Society. He is the author of the essay collection Images of the Afterlife in Cinema, based on a film season he curated in 2010, and the novel Three Bridges (2014).