SALLY POMME CLAYTON | NIGHT VISIT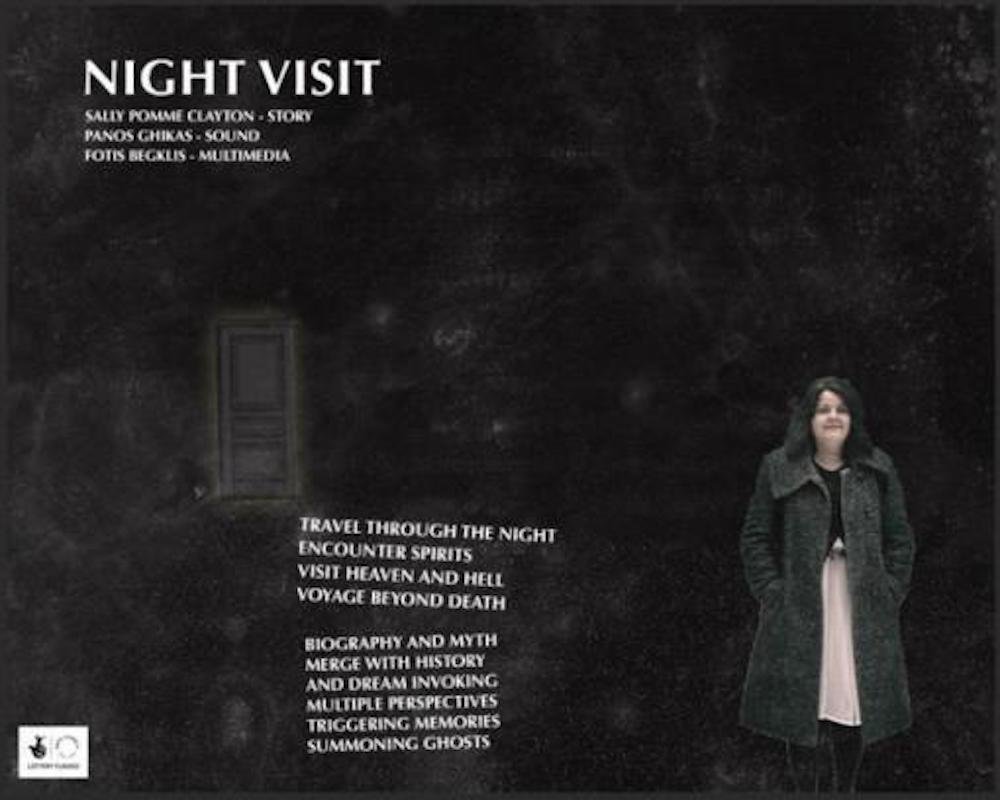 EVENT: SALLY POMME CLAYTON | NIGHT VISIT
DATE: 20th October 2012
TIME: 7.00 pm
VENUE: Swedenborg Hall, 20/21 Bloomsbury Way, London WC1A 2TH
PERFORMER/S: Sally Pomme Clayton
Artist in Residence Final Performance | in association with the Bloomsbury Festival 2012
A Storytelling Performance for Adults by Sally Pomme Clayton | 7.00 pm | Swedenborg Hall, 20-21 Bloomsbury Way, London WC1A 2TH | Free admission but booking advised

I'd heard my Grandfather's stories of spirits many times, but the events were so strange, I was never sure if I'd really heard them, exaggerated them, or invented them myself.
Travel through the night with Sally Pomme Clayton as she entwines stories of her ancestors' encounters with Spiritualism, with Emanuel Swedenborg's dazzling visions.
NIGHT VISIT traces the cultural history of Spiritualism, from the science and photography of the 1800s to the mass bereavement of two world wars. The search for evidence of the invisible is contrasted with Swedenborg's mystical experiences, where he surrendered himself to unconscious worlds in search of truth. Biography and myth merge with history and dream, invoking multiple perspectives, triggering memories and summoning ghosts.
Night Visit is innovative and immersive. The sound world is performed live, in surround, by Panos Ghikas. Visual projections are created and manipulated live by Fotios Begklis. Narrative and noise fracture and fuse with images, suggesting fleeting presences and conjuring metaphysical spaces and intensifying the audience's imagination.
Sally Pomme Clayton is Artist in Residence at the Swedenborg Society and Night Visit is the culmination of a year-long residency, funded by the Arts Council England. This performance is suitable for those aged 16 +.
Sally Pomme Clayton – story | Panos Ghikas- sound | Fotis Begklis – multimedia
SALLY POMME CLAYTON is a performance storyteller and writer. She is Artist in Residence at the Swedenborg Society and Night Visitis represents the culmination of a year-long residency of performances and research. This performance is the premiere. http://sallypommeclayton.com/blog
PANOS GHIKAS is a composer, performer, and producer. He creates diverse music, from avant-pop band The Chap, to exploring new approaches to composition and improvisation with his label Migrant Records. www.panosghikas.com
FOTIOS BEGKLIS is a digital film-maker and multimedia developer who works with artists creating interactive multimedia. He is a Learning Technologist at Imperial College University exploring innovative uses of technology. http://marmelada.co.uk/
Night Visit is funded by Arts Council England and is produced in association with the Bloomsbury Festival 2012.
ADMISSION IS FREE BUT CAPACITY IS LIMITED. 50 places can be booked in advance via the BLOOMSBURY FESTIVAL WEBSITE (booking opens 1st October 2012). 50 places will be available on the night, from 6.00 pm in the bookshop.