PERSEPHONE AND THE RITES OF SPRING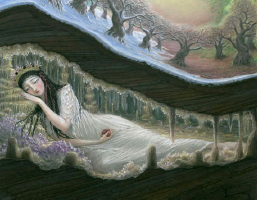 EVENT: PERSEPHONE AND THE RITES OF SPRING
DATE: 3rd April 2021
TIME: 4 pm
VENUE: on-line
PERFORMER/S: Sally Pomme Clayton
Celebrate spring with mysterious myths and fragments of folklore. Paint an egg, make a flower crown, decorate an Easter bonnet and have it  ready to show everyone at the end. Join  writer and performer Sally Pomme Clayton  for magical stories about spring.  Hunt for  where the Easter bunny lives.  Wonder which came first, the creation myth or the egg?  And follow Persephone on a dark and dangerous journey to the underworld.  Find out why her mother, Goddess Demeter, curses Earth so nothing grows,  how Persephone returns, and why the cycle of nature and seasons depend on Persephone's journey.
These stories come from ancient Greece, Asia and Scandinavia, they are poetic and dramatic and will fill you with the hope of spring!  Sally-Pomme is a wonderful storyteller who weaves spells with words, sounds, songs and special objects. The performance is aimed at children aged 6 and over and their families, but everyone is welcome. It will be held via zoom and will last about 45 minutes, and at the end we would love you to show us your spring decoration and tell us a little bit about it! Welcome in the spring with these beautiful stories.
"Some people are born to entertain – Sally Pomme Clayton has that magic in plenty, she is a dream-weaver, a spell-binder."  The Londonist
BIOGRAPHY
Sally-Pomme Clayton is a pioneering storyteller and writer creating unique and magical performances, books, plays, and texts, bringing fairytales and fragments of forgotten myths to new life. She is the author of 14 children's books, and an associate artist at Omnibus Theatre, Clapham. She performs stories for everyone, from: Soho Theatre to Northern Stage; The London Gypsy Orchestra to The London Philharmonic Orchestra; Royal Shakespeare Company to The Royal Opera House; Hakaya Storytelling Festival, Jordan to Beyond the Border Festival, Wales; Dhaka Lit Fest to Edinburgh Literature Festival; The Crick Crack Club to The Cutty Sark; The British Council to The British Museum; Apples and Snakes to Athens Storytelling Festival.  She has created performances and texts for organizations across the UK.  She was Artist in Residence at The Swedenborg Society and created  'Night Visit' combining memory myth, biography and cultural history, it was an exploration of seance and spiritualism in the two World wars.  Her  latest books  'The Phoenix of Persia' (Tiny Owl Books 2019) nominated for the Greenaway Award 2020 and the UKLA award 2020. 'The King with Dirty Feet' (Otter-Barry Books 2018) winner of The Oxford Book Award best picture book 2019.
  "One of the country's most highly regarded storytellers…she awakens the imagination of the audience."  The Independent.