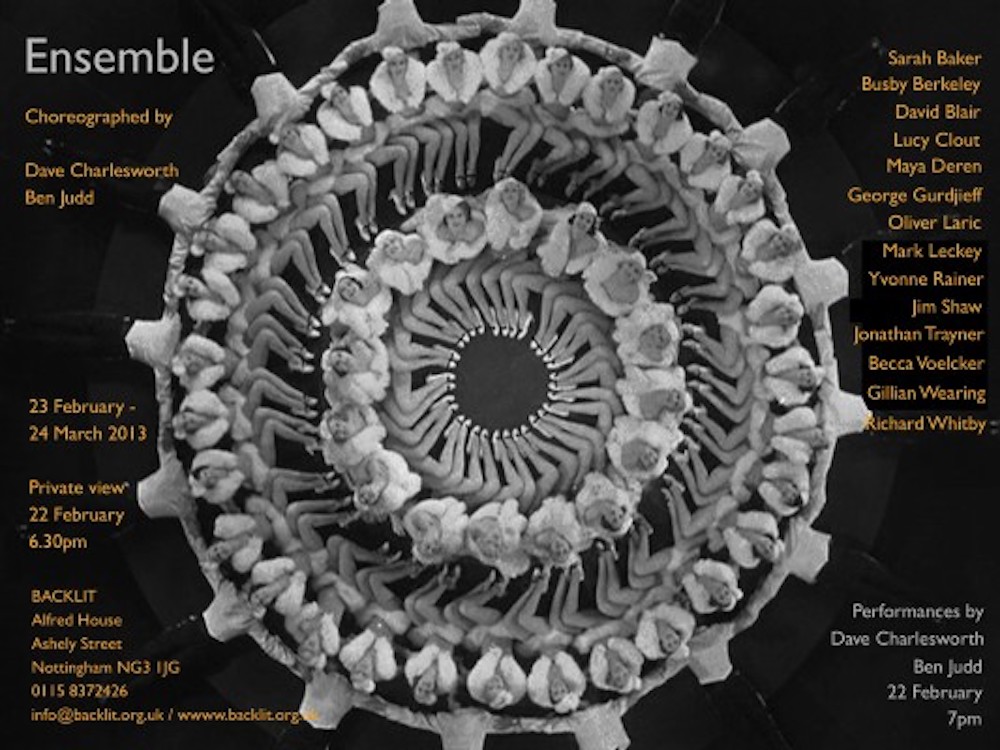 EVENT: ENSEMBLE
DATE: 13th December 2013
TIME: 6.00 pm
VENUE: Swedenborg Hall, Swedenborg House, 20/21 Bloomsbury Way, London WC1A 2TH
CURATOR/S: Dave Charlesworth | Ben Judd
FEATURING: Sarah Baker | Busby Berkeley | David Blair | Dave Charlesworth | Lucy Clout | Maya Deren | George Gurdjieff | Oliver Laric | Mark Leckey | Yvonne Rainer | Jim Shaw | Jonathan Trayner | Becca Voelcker | Gillian Wearing | Richard Whitby
Choreographed by Dave Charlesworth and Ben Judd
Swedenborg House, 20-21 Bloomsbury Way, London WC1A 2TH | Friday 13 December 2013 | 6 pm | free admission | Please RSVP to info@swedenborg.org.uk
Ensemble seeks to investigate the use of movement and dance within the production of contemporary art, examining this process through video, documentation and live works. The exhibition includes practitioners drawn from a variety of sources including dancers, artists and filmmakers. Ensemble will examine the commonalities and tensions between large-scale cellular, choreographed works such as those by Busby Berkley and George Gurdjieff and more individual explorations by Yvonne Rainer and Gillian Wearing. In all the works, the audience is implicated in different ways by a rhythm and restlessness; however a fundamental compulsion to move with the crowd is offset by a desire to stand back and observe its patterns and forms.
Including work by Sarah Baker, Busby Berkeley, Dave Charlesworth, Lucy Clout, Maya Deren, George Gurdjieff, Yvonne Rainer, Jim Shaw, Jonathan Trayner, Becca Voelcker, Gillian Wearing and Richard Whitby
New work by Dave Charlesworth and Ben Judd will also be screened.
Please RSVP to info@swedenborg.org.uk
about the curators
DAVE CHARLESWORTH is an artist and curator (b. Huddersfield, West Yorkshire). His mixed moving image and performance practice exposes fragmented personal histories and generic social phenomena as avenues to explore experiences of the contemporary British landscape. Through his curation works at Rokeby Gallery and Apiary Projects, Charlesworth has developed a series of exhibitions which take secret societies or other self-organized groups as models through which examinations of collaborative practices can exist and new mediated experiences of social phenomenon can be imagined. Charlesworth is the Curator at Jotta and South Kiosk and is the current artist in residence at Yorkshire Film Archive.
BEN JUDD is an artist based in London. He uses performance and video to explore notions of scepticism and belief, freedom and immersion, by positioning himself and the audience as both participant and observer. Previous performative videos explored his relationship to specific groups and individuals who have marginalized, occult or esoteric belief systems, such as witches, clairvoyants and shaman, testing the extent and nature of his own beliefs and preconceptions. His recent work explores how the ritualistic activities of these groups and individuals can be extended into an action realised by actors (one that itself hovers on the border between immersion and a more self-conscious, knowing state), and how, in turn, this action can be interpreted in a moving image work. Ben was involved in the Swedenborg Society's bicentenary exhibition, Fourteen Interventions, when his piece Concerning the Difference Between the Delights of Pleasure and True Happiness was performed and filmed in Swedenborg Hall.