BOOK LAUNCH & MAGIC LANTERN SHOW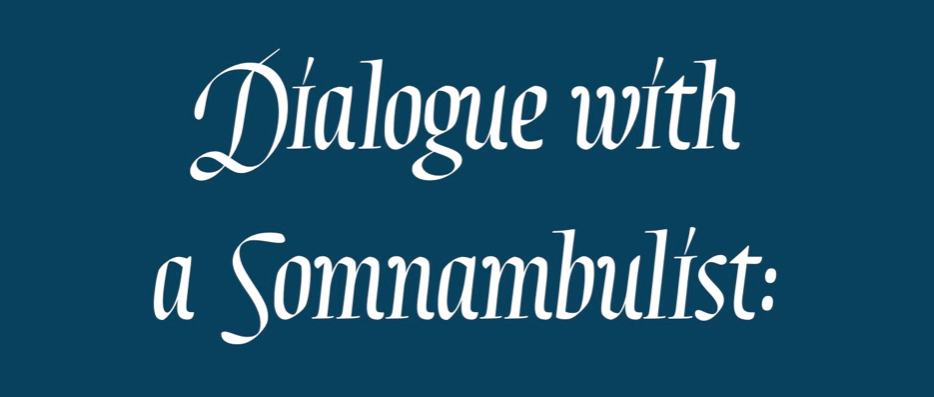 EVENT: BOOK LAUNCH & MAGIC LANTERN SHOW
DATE: 4th November 2021
TIME: 6.00 PM DOORS OPEN: 6.30 Magic Lantern Event: 7.30 Book launch and Reception
VENUE: SWEDENBORG HALL
AUTHOR: CHLOE ARIDJIS
PUBLISHER: HOUSE SPARROW PRESS
INTRODUCTION: TOM MCCARTHY
LANTERNISTS: JEREMY & CAROLYN BROOKER
PIANIST: COSTAS FOTOPOULOS
---

Due to an overwhelmingly positive response to STILLED SHADOWS a magic lantern spectacle with CHLOE ARIDJIS with

 

lanternists JEREMY & CAROLYN BROOKER and 

pianist

 COSTAS FOTOPOULOS, 

and requests for more, we have decided to include the show as part of the launch. 

The spectacle lasts roughly one hour, from 6.30 to 7.30 PM, and will be followed by a reception. Please also note that because the magic lantern spectacle is carried out in darkness there is strictly no admittance after it begins.

THIS EVENT IS NOW FULLY BOOKED

---

As part of her Residency at Swedenborg House, the Swedenborg Society is delighted to announce the launch of Chloe Aridjis's 

Dialogue with a Somnambulist: Stories, Essays & A 

Portrait

 Gallery

,

published by 

HOUSE SPARROW PRESS

. Renowned internationally for her lyrically unsettling novels

 Book of Clouds, Asunder

and

Sea Monsters,

the Mexican writer Chloe Aridjis crosses borders in her work as much as she traverses them in life. Now, collected here for the first time, her stories, essays and pen portraits reveal an author as imaginatively at home in the short form as in her longer fiction. 

 
At once fabular and formally innovative, acquainted with reverie and rigorous report, sensitive to the needs of a wider ecology yet familiar with the landscapes of the unconscious, her texts are both dream dispatches and wayward word plays infused with the pleasure and possibilities of language. Conversations with the presences who dwell on the threshold of waking and reverie, flâneuses of the dusk and dawn, these pieces will stay with you long after the lamps have flickered out.
---
'Chloe Aridjis's stories and essays are beguiling, her language fresh, her bright mind refreshing. She joins fantasies with realities, to startle the senses, to unite what seems unlikely – a mother eating sea monkeys, a son who can't leave his house. With elan, she investigates life's profound and peculiar mysteries. Reading Dialogue with a Somnambulist, one page after another, entranced, I was filled with admiration and love for this daring, excellent writer.' – Lynne Tillman
---
CHLOE ARIDJIS is a London-based novelist and writer. Her most recent novel, Sea Monsters, published in 2019 by Chatto & Windus, was awarded the PEN/Faulkner Award for Fiction. Her 2009 novel Book of Clouds was published in eight countries and was awarded the French Prix du Premier Roman Étranger. Her 2014 novel Asunder was described by The Independent as 'rapturous and enraptured reading'. Chloe's work features enchanting fantastical themes, from the mysterious troupe of Ukrainian dwarves the protagonist of Sea Monsters follows to Zipolite, Mexico to the miniature eggshell landscapes populated with moths in Asunder. These dreamlike worlds evoke some of the stranger, more surreal aspects of Swedenborg's work. Chloe has undertaken the Swedenborg Residency for 2019-2021, which will involve a series of events and publications. Her first act as part of the Residency was to judge the Swedenborg Film Festival 2019.
HOUSE SPARROW PRESS
are based in Hackney, London, and seek to publish creatively committed, collaborative works both at a time that is relevant and for reasons that feel compelling. Formed in 2016 to publish A Sparrow's Journey, it is drawn to manuscripts of hybridity, titles that might elude conventional publication over concerns of form or scale. House Sparrow Press comprises Jess Chandler (Publisher and Editor) and Gareth Evans (Editor).
For more details of the book and
HOUSE SPARROW PRESS

visit: