Albion, Awake! William Blake Live on Stage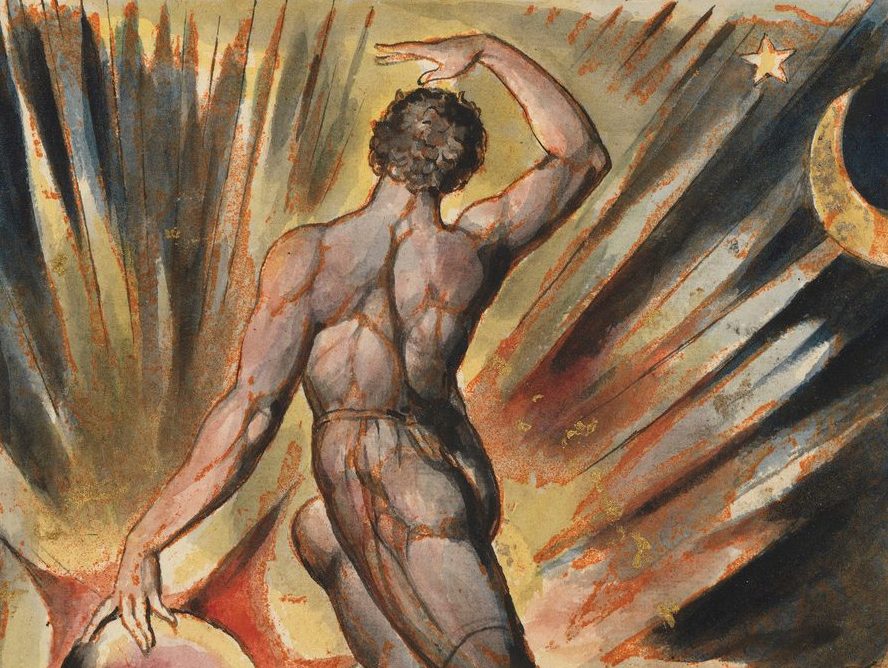 EVENT: Albion, Awake! William Blake Live on Stage
DATE: 20th May 2022 - 22nd May 2022
TIME: Doors open 19.30: Event begins at 20.00
VENUE: Swedenborg Hall
PARTICIPANT/S: Visionary Company
DIRECTOR/S: Stephen Pritchard
PERFORMER/S: Toby Pritchard
Producer: Ian Frampton
MEMBERSHIP DISCOUNT: £12.00 + booking fee to friends and members of Swedenborg Society and members of the Blake Society. Please email info@swedenborg.org.uk to obtain your discount code for this event.
---
Visionary Company presents:
ALBION, AWAKE!
William Blake Live on Stage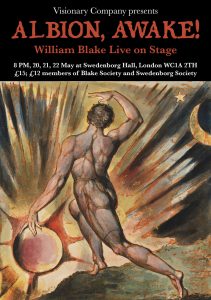 Albion, Awake!  is a one-man performance that unleashes Blake's energy on stage, envisioning his life, politics and relationships through his letters, poetry, prose and artwork. His limitless imagination explodes prejudices of race, gender, identity and what it means to be human. Blake's work aims to heal our divided selves in a divided world and champions the triumph of imagination over systems of oppression.
1799-1804 is a crucial time in the life of William and Catherine Blake as they leave London for a new and promising life in an idyllic cottage by the sea in Felpham, West Sussex. Hopes are dashed with the onset of Catherine's frequent illnesses; the Blakes' survival dependent on pursuing commercial work at the expense of their visionary masterworks; Blake's growing alienation from his patron, the poet and author William Hayley; and, finally, arrest and trial for sedition. Yet out of this adversity Blake forges his epic illuminated poem, Milton, which begins with the 'second national anthem', 'Jerusalem'.
Albion, Awake! combines Blake's own words with the mesmerizing power of his 'Illuminations' – the exquisite hand-coloured engravings that form an essential part of his major published works. Using Michael Chekhov's radical techniques for the actor, strongly rooted in the power of imagination and archetypes, this performance is a layered, multimedia experience of psychophysical theatre and a living embodiment of Blake's 'Visionary Forms Dramatic'.
Running order
19.30 Doors open
20.00 Performance starts
21.20 Performance ends
21.20-21.50 Q&A and conversation
22.00 Close
---
VISIONARY COMPANY is a theatre collective dedicated to creating challenging and unusual performances and workshops inspired by visionary artists and thinkers. Current project, Albion, Awake!, explores the life and work of one of the world's greatest visionaries, William Blake. Future plans for projects include performances based on Artaud, Lorca and Van Gogh. Visionary Company also offers a range of workshops and Dramatherapy sessions.
TOBY PRITCHARD (Performer) trained at the Institute of the Arts, Barcelona and Rose Bruford in London. His past performances include five productions with the Bristol Old Vic Young Company at the Theatre Royal, Bristol and most recently at the Lantern, Colston Hall in Bristol; at The Bunker, London Bridge; at the Institut del Teatre, Barcelona and at the Rêves D'Avant L'Aube Festival in Paris as a member of Bred in the Bone theatre company. He has just finished a year's residency at Bristol Old Vic, as part of the Made in Bristol programme.
STEPHEN PRITCHARD (Director) read English at Oxford and studied Blake's Vala, or the Four Zoas for a Ph.D. As a music journalist he interviewed Peter Gabriel, then joined with him as a co-founder of the WOMAD Festival. Six years in performing arts was followed by twenty-eight years experimenting with psychophysical work through pedagogy and performance. Stephen has also produced eight drama films for global distribution.
DR IAN FRAMPTON (Producer) has worked on design and technical theatre since an internship at Bristol Old Vic in 1984, collaborating with Stephen Pritchard in theatre projects in England, Sweden, France and Spain; with contemporary dance choreographer Mia Pezaro in Amsterdam; with WildWorks Theatre Company and at the York Mediale festival.
---
Friends and members of the Swedenborg Society, please email info@swedenborg.org.uk to obtain your discount code for this event.